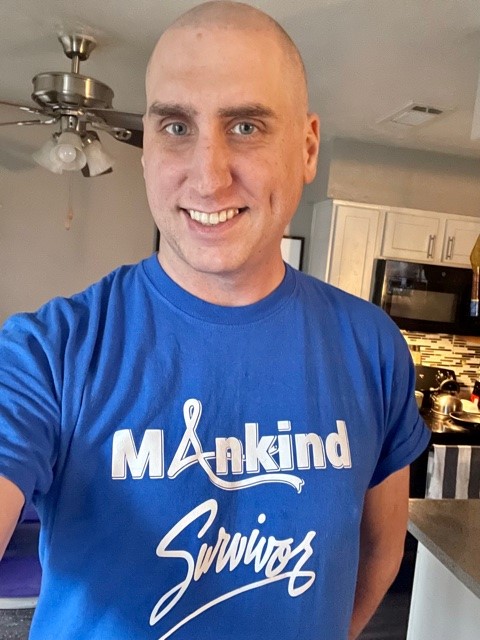 Our most recent beneficiary, Michael Barclay, never thought he would find himself in a health crisis and seeking support from Mankind. In March of 2021, he was working as a construction manager for an engineering firm and enjoyed golf and hockey in his free time. His job paid him based on when he worked, meaning that any down time would directly affect his income. However, as a 37-year old man in peak physical shape, he had great work attendance and he thought he was too young to need regular physicals.
In November of 2020, Michael began experiencing inflammation in his testicles, and went to an emergency room to be checked out. Unfortunately, the ER misdiagnosed him with orchitis, and simply sent him home with antibiotics. After months with no improvement, he went back to the doctor and was told the unthinkable…he had stage 2, non-seminoma testicular cancer. He immediately had surgery and began weeklong sessions of intensive chemotherapy for a remaining retroperitoneal lymph node tumor. He was scheduled for 9-10 weeks of chemo. Michael took a hard hit from the chemo and he was unable to work during the weeks he received treatment. Without short term disability, he was suddenly and unexpectedly left without an income and unable to pay his rent, utilities, and food. He was also stuck with large out of pocket insurance deductibles.
Michael's story is a cautionary tale for all Mankinders. We should all be vigilant in caring for ourselves and proactive in seeking preventative care. When your gut says something is not right—even with a doctor's diagnosis—don't wait to seek help. When things felt impossible for Michael, Mankind stepped in and provided financial assistance to him. Michael has a bright outlook and has great confidence in beating cancer and making others aware of seeking help. If you know anyone who is facing a health crisis, please encourage them to apply for assistance from Mankind.