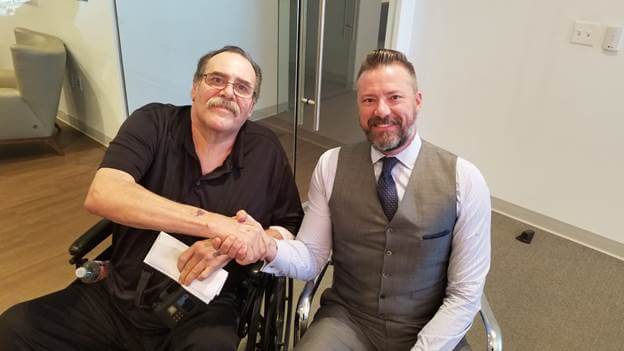 When someone is diagnosed with a serious health issue, life becomes a whirlwind of doctor visits, medication and treatment options — and "How do I pay for all this?"
The first time the Row family from Garland, TX faced this kind of life-altering situation, it was Mrs. Row. In 2014, she fell ill, and Hank spent most of his earnings and savings on her battle for health. Sadly, Mrs. Row passed in October 2016.
Shortly thereafter, Hank — a self-made man and owner of Hail King, a paintless dent repair company in Dallas — began experiencing cardiac issues. He was eventually diagnosed with congestive heart failure and told that his heart was only working at 15% capacity.
So Hank was hospitalized to have stents put in, and even had bypass surgery. But during his stay in the hospital, Hank suffered a major heart attack and was restricted to the Intensive Care Unit for six days.
Hank needed another expensive MRI — which required a cash payment. And due to complications, he was dealing with a heel infection that went almost down to the bone that meant a new $700 per week bill to see infectious disease specialists. There was even a chance that Hank could have lost his leg if it went untreated and/or worsened.
Always a strong and "in-control" person, Hank faced another huge challenge. He had no health insurance, but his bills were astronomical. His sons did their best to help, but the family was facing incredible debts.
A family friend told the Rows about Mankind and its goal to support men in times of medical crisis, so they decided to submit an application for assistance. Thankfully, Mankind approved their application. The Row family received the funds they needed to help pay for Hank's MRI and medications.
Hank recently completed his treatment for the infection and was able to have the port (an access point for providing medication) removed from his arm.
While Hank does live with limitations – he cannot work anymore and needs to wear an external defibrillator vest that both monitors heart health and protects against sudden cardiac arrest – he's alive and doing everything he can to stay healthy.
"His outlook is so much better," says John Row, one of Hank's sons. "And our experience with Mankind was top-notch. Those people are 100% professional, genuine, and kind."